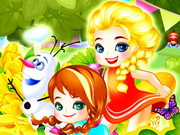 Elsa Princess Picnic
It is going to be a fine day. Frozen Elsa, Anna and Olaf have decided to go out on a picnic. You need to be the picnic designer to decorate and show a few ideas for a perfect picnic. With so many goodies, vegetables, fruits, juices and delicious desserts you may face with the dilemma of what to choose in the picnic menu. You can also landscape the place of picnic with shrubs, butterflies and others. Come on, Elsa Princess Picnic is funny, free to play!
Control: Mouse click or touch to play.