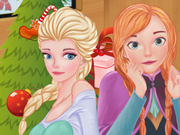 Frozen Sisters Christmas Day
Christmas is coming, Anna had been ready for Christmas with presents. Oh, my gosh! The presents were gone. You can find them together with Elsa, can you? And then decorate a beautiful Christmas tree.
Control: Tap on screen on mobile phone and mouse click on PC.