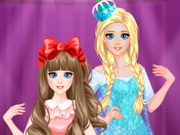 Elsa Sisters Makeup Party
It's party time! Elsa and Anna are invited to a party tonight. The great girls of Disney wish to have the perfect dresses to impress. They have a wide selection of party dresses in their wardrobe. Do you know how to dress for a party? Come on, you can have them covered with the most beautiful party dresses! They would be very happy if you can help them. Thank you so much for spending your precious time on Elsa Sisters Makeup Party.
Control: Tap to give Elsa Sisters a fashion makeover and style.