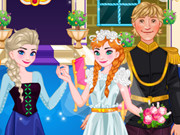 Anna Wedding Cake And Decor
Frozen princess Anna accepted Kristoff's marriage proposal. Elsa intends to make a beautiful wedding cake and decorate the assembly hall, but she encountered some problems in that. Elsa would be very happy, if you help her. Enjoy!
Control: Tap on the screen or mouse click to play.